By Cloud Health Tech Staff–Data accuracy plays an important role in every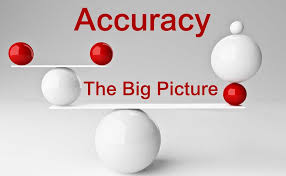 business. Data is used to measure performance and profitability, and analyzed in order to improve internal operations and drive innovation. However, as businesses move to the cloud, the quality of data can suffer due to formatting problems, data loss, inaccurate timestamps, and other incompatibility issues.
Furthermore, once a business starts operating in the cloud, data can come at you much quicker than before. Consequently, collecting more data than is needed isn't necessarily a good thing; plus the more data you have, the harder it is to maintain data accuracy. Poor data accuracy can result in businesses making misinformed decisions that can prove to be expensive.
Gartner estimates the financial cost of data inaccuracy is $15 million per business per year. In addition, Mei Yang Selvage – a research director at Gartner – commented that not only are businesses taking a financial hit due to data inaccuracy, poor data quality practices undermine digital initiatives, weaken their competitive standing and sow customer distrust.
10 Major Ways Data Accuracy Impacts Your Business
Prior to Gartner producing its Data Quality Market Survey, Freeform Dynamics conducted a survey asking businesses how they rated the management information available to them in terms of completeness or accuracy. Ten areas in which data accuracy impacts businesses were chosen, with respondents asked to reply "Very Good", "Could be Better", or "Quite Poor".
The Business Information Quality Gap
Area of Impact
Very Good
Could be Better
Quite Poor
Financial Performance
42%
51%
7%
Product Line Profitability
18%
29%
53%
Customer Profitability
12%
34%
54%
Delivery Value to Customers
12%
58%
30%
Customer Acquisition
10%
36%
54%
Customer Satisfaction
34%
47%
19%
Customer Retention
17%
52%
31%
Operational Performance
39%
46%
15%
Employee performance
22%
29%
49%
Performance vs. Competition
26%
37%
37%
The consequences of the Business Information Quality Gap are that data from different sources often conflict and you can't assume (or trust) the accuracy of the results you achieve by analyzing the data. In many circumstances the data needed hasn't been captured, or it exists and is too hard to find. So, manual processing is required to extract accurate results – adding to costs, delays, and risks.
In addition to the technical issues when data is first migrated to the cloud mentioned above, data stored in the cloud can further degrade due to typing mistakes, communication errors, and unverified external sources being used to update or supplement information. Also, due to oversights or the pressure of work, records may not be updated at all – adding to the major ways data accuracy impacts your business.
How to Resolve the Issue of Poor Data Quality
It's important to resolve the issue of poor data quality, because as well as hindering business development, it can leave a bad impression on customers and clients. Inaccuracy lowers credibility, and increases the perception of risk and the failure of compliance. Gartner gives the example of receiving a business email intended for somebody else, but in healthcare (for example), poor data quality can lead to poor treatment decisions that can harm a patient.
Gartner recommends implementing processes to measure the value of data accuracy before building a team responsible for data management across the whole business. An approach suitable for businesses with fewer resources is to determine which data sources are reliable and cleanse data from these "true" sources building outwards. This can be a labor-intensive task, but there are solutions available to accelerate the process and then prevent subsequent data inaccuracies impacting the business.
One of the most effective solutions is automation. With automation software that gives you total visibility of your cloud and on-premises databases, the software runs through the databases correcting formatting errors and identifying anomalies for further inspection or correction. The best automation solutions can help resolve the issue of poor data quality across different types of databases maintained on-premises, in the cloud, and in multi-cloud or hybrid cloud environments.
Other Advantages of Automation Software
Once data has been standardized, the software maintains standardization throughout the business's databases by monitoring data as it's collected, processed, and saved. Other capabilities include identifying data that's no longer required and should be deleted to comply with state, international and industry regulations (i.e. GDPR), and identifying when sensitive data hasn't been encrypted for security purposes, or is maintained in a misconfigured and potentially publicly-accessible storage volume.
It's worth investigating the advantages of automation software, not only for the major ways data accuracy impacts your business, but also for optimizing costs, performance, and security. For many businesses, automation is proven to improve performance and profitability, plus it can further improve internal operations and drive innovation by acting as a safeguard against the many obstacles to growth in the cloud – not least data inaccuracy.
Category: Uncategorized