Increasingly small and medium businesses are employing Cloud Computing, a relatively new term referring to scalable, virtualized computing resources available on the Internet, to gain all the operational advantages along with reduced fixed capital costs – a rainmaker's choice.
Coming out of the dry spell of recession, cloud computing has not only won over its incredibly cheap price tag but also enabled an elastic infrastructure with a shared-cost model. Additionally, cloud computing has translated value for businesses.
Flexible: Giving an opportunity to provision and

de

-provision in real time in order to meet the workload demands, cloud computing has given the freedom from employing dedicated resources.
Cost-effective: The simple pay-as-you-go as opposed to upfront capital expenses improves utilization as well as investment benefits.
Availability: Enabling web based all-time-availability, cloud computing has moved people to go from workstations, to laptops and to mobiles.
A cloud-based approach can level the playing field for small businesses "much in the same way that eBay levels the playing field between cottage industries and major vendors," says Michael Salsburg, a distinguished engineer for Unisys and a member of the Computer Measurement Group, a non-profit, worldwide organization of IT professionals.
Cloud Computing Trends by Country
Here is a comparison of the current and the estimated use of cloud computing in organizations all over world: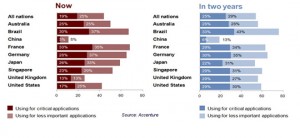 Cloud Computing is Here to Stay
The top cloud players, Google, Amazon, Apple and Microsoft have invested vastly in Cloud Computing, poised to lead the next revisualization of the Internet. The major influence lies in giving the huge amounts of processing power to small, portable devices by crunching data and serving software from the cloud and soon all the important documents, data and email will be saved on a virtual server, which will allow users to access that information from any location.
Cloud Computing Key Trends Summary
Going forward, Cloud Computing is sure to impact the consumers like you and me, just as it has started to impact the competitive landscape.
Scalable and shrinkable private clouds by large enterprises like IBM and Amazon are being managed centrally within

virtualized

environment.
A shift in skill set of IT professional has become a need. It's time IT professionals focus on extracting the most business value from new technologies rather than technological implementation.
Direct availability of IT resources is impending death of IT departments within enterprises. There is no need to have a dedicated IT staff when this can be sourced from cloud computing vendors
Large enterprises will become part-time cloud-computing vendors. Enterprises are maintaining huge IT infrastructures, often with excess capacity. To unlock the value in that investment, corporate IT departments will create clouds within their IT infrastructure and lease cloud power to suppliers and customers.
Professional and commodity cloud services bundled together can greatly enhance the profitability and productivity for individuals and businesses. Cost of running a business on the cloud is much lower than the traditional way – the cost of acquiring and implementing all the hardware, software and personnel
Cloud Computing is also leading to more innovation. Local constraints on energy costs and capacities; space requirements for IT infrastructure; and up-front costs will disappear as companies become able to tap computing resources situated anywhere on the planet.
Courtesy of AskVisory, Cloud Computing Trends.
Category: Cloud Computing