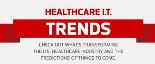 What is trending in healthcare technology as we approach 2014? Technology is an ever-changing paradigm, but some issues simply keep rising to the top. The mobile revolution continues, and patient involvement and engagement in their own healthcare is on the rise. It is becoming imperative to improve not only the patient, but also the caregiver experience.
We will examine five trends that will continue to directly affect the healthcare industry in 2014 and beyond.
BYOD is becoming mainstream. Don't get left behind!
BYOD is becoming a necessity, and is now a real and manageable possibility for your employees who would like to be connected to everything. The push for BYOD has reached a point that can no longer be ignored. Does your facility have a BYOD policy that is clearly defined and ready to embrace all types of devices, as well as operating systems? The IT infrastructure that enables BYOD needs to be addressed, as well as the governance and compliance issues such as establishing best practices that suit your organization. It is becoming imperative, and also much easier, to securely support the multitude of devices your doctors and support staff would like to use at work. HIPAA compliance and security is always an issue, and certainly puts a strain on your IT department but the options for support are more readily available. Hospitals and medical practices are starting to embrace the support requirements needed to enable their medical staff to bring their own devices to work, and not just allow usage on devices owned and managed by the medical facilitiy. Expectations need to be met and policies put in place to manage confidentiality and privacy requirements, and be ready for the influx of new devices. The ROI for BYOD can still be hard to justify, but the payoff in terms of a happier, more productive staff will certainly contribute to a productivity increase. 2014 will see an increase in BYOD, and it is not going away, so this coming year may be a great time to embrace it.
Big Data plays a vital role in patient care
We are seeing new phenomena where stored data is now accessible and useable. Big data is being analyzed to gain valuable insights into ways to become more cost effective, and accelerate patient care. The focus has shifted to individual quality of care and increased access to relevant medical data enables a greater depth of knowledge. As Electronic Health Records evolve, and are capable of working with outside apps, more relevant critical information is captured and recorded. Data from all sources needs to be integrated for more efficient access, to help provide a more complete view for patient problems, diagnosis and treatment. Patients are also able to access their information from almost any device at any location. More hospitals and medical facilities are able to enter information into mobile devices and computers as it is obtained from the patient. The ability to combine all types of information entered through mobile devices increases the relevance of mobile technology. There is no longer a reason to avoid technology because it is perceived to get in the way of care. Tablet computers can be taken into the consulting room, while many hospitals now have terminals outside each hospital room or a hub in the hallway with easy encrypted single sign on for all medical staff. Access to comprehensive health data also enables more accurate prognosis and treatment decisions. Healthcare providers a realizing the benefit of big data and large-scale data analysis to deliver better care at lower costs as well as more customized treatment plans. There has been a resistance to change in the healthcare industry, but big data is playing a vital role that cannot be ignored. EHR systems are more affordable and information can be exchanged more easily than ever before.
Telemedicine will deliver cost effective care for the future
Technology is cheaper and much easier to use and is continuing to push the envelope in terms of the options available to all patients, not just those who struggle to get to their medical facilities or hospitals. Video conferencing through webcams on laptops and mobile devices mean that patients can connect with their medical staff over the Internet with ease. Receiving 'virtual' care will continue to increase through 2014 and beyond. Self-monitoring devices also make it easier for patients to monitor their own vital signs and report their information without having to make an appointment to see a medical care provider. Post hospitalization, patients can check in and upload their data, and the medical staff can videoconference with the patient or with other members of their team to monitor and consult through an interface that assists with HIPAA compliance. Lack of reimbursement for treatment through telecommunications has been a barrier in the past; however, progress is being made from both political parties to change the requirements. Also using telemedicine to lower readmissions to hospital can help with Medicare reimbursement.
Data Security and support is becoming easier to manage
Patient confidentiality and adhering to HIPAA requirements has become increasingly more challenging as IT continues to increase in complexity. All personal health information must always be encrypted and the platforms that make this possible continue to evolve. The ability to erase information from devices that have been compromised has become a great backup tool. Device tracking and wiping is now readily available as a security solution. Many hospitals have an internal team of IT support staff monitoring not only security, but also any IT emergencies, but there is more to be done to close the security gaps. Security products are available that provide secure leads for email, texting and file sharing, as well as videoconferencing. It is imperative that mission-critical applications can continuously run with no concern about failures.
Mobile Apps are on the rise
Medical professionals rely upon their mobile devices to work effectively. They access mobile apps to quickly garner many types of information to make them more efficient. Patients use apps to monitor many aspects of their health, like counting calories, and measuring heart rate, to more complex regimens like managing chronic disease. Mobile apps will continue to be developed as they target specific needs. This means innovative apps, especially within healthcare, are beginning to surface that can aid with more than just healthy lifestyle decisions, they will start monitoring more serious medical conditions. Medication adherence apps will help remind patients to take their medication through smart phone reminders. EHR's are also evolving with better usability to work with outside apps for data input and monitoring. Health systems are developing and implementing their own apps to help improve the patient experience. Apps are being developed to span many different devices, and will play a vital role in healthcare now and in the future.
As technology continues to develop at a dramatic pace, we will see an increase in the use of many types of electronic devices and a drop in paper based note taking within the healthcare environment. The further development of products and services such as touch based convertible tablets, servers, cloud computing, smart machines, and smart printers will encourage a major technology shift in hospitals and medical facilities throughout the world. We will also see an increased push in cost reduction initiatives in order to advance the progress related to the vital task of improving patient outcomes.
Category: Healthcare