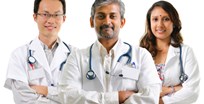 By Hector Rodriguez, Worldwide Health CISO & Standards, Microsoft
Are you worried about your care teams? Many health leaders are concerned their staff have too many demands on them.
Clinician shortages and ever-increasing healthcare needs means care teams are seeing more patients. And heavier workloads can lead to burnout, exhaustion, mistakes, and patient and employee dissatisfaction. So how do you ease this burden and improve not only the effectiveness of your care teams, but their personal experience and job satisfaction?
Many people in the health industry are asking that question as the "Triple Aim" has evolved to the "Quadruple Aim"—the fourth aim being to address clinician and staff satisfaction. Because in order to provide better care to more people at lower costs, health organizations realize they need to take care of those taking care of their patients.
The quadruple aim imperative calls for new designs in healthcare. Health organizations are taking advantage of cloud-first, mobile-first solutions to meet that imperative by digitally transforming. They're re-designing workflows to save staff time and empowering care teams to be more productive, collaborative, and engage with patients in new ways—wherever they or their patients may be.
With trusted cloud eHealth solutions and advanced cybersecurity, they're able to do all of this in a way that's secure, private, and helps them meet compliance requirements. Being able to trust the cloud they're using is vital as health organizations extend care beyond the four walls of their facilities and coordinate services across the care continuum—expanding how and where health professionals and patients access confidential information.
By equipping staff with tools that work the way they do and help them meet the demands of new care models and expectations of patients, health organizations are empowering care teams to not only be more productive and improve patient outcomes—but to do so in ways that leave them feeling happy and energized, not burnt out and exhausted.
In this video, William Robinson, MD, and Nick Patel, MD, talk about how time-saving technology has helped them see two more patients per day, feel more joy in their work, and go home earlier.
One of the most moving stories of care teams scaling care and connecting with patients along their entire care journey comes from Children's Mercy. As nurse Lori Erickson writes in her blog, since they started using their home-monitoring app in March of 2014, none of the babies with single ventricle (SV) heart disease in their Cardiac High Acuity Monitoring Program (CHAMP) has died at home during the high-risk period between their first and second surgeries. That's significant because typically as many as 20 percent of SV infants don't survive this timeframe known as interstage, which is the first four to six months of their life.
And it's exciting to see numbers like two million worker hours saved over three years. That's what Advocate Health Care is accomplishing by empowering its care teams with cloud-based communication and collaboration tools. See more of their incredible time and cost savings numbers and learn how their staff is able to work together and care for patients more efficiently—while improving security and compliance with a wide range of policies: Read this blog by Dennis Giles, director of Unified Communications for Advocate Health Care.
Worry less about your staff and dream more about how you can empower your care teams to be happier and more productive: Explore ways your health organization can digitally transform.
Category: Uncategorized