By Mike Thomas-From providing real-time clinical data to protecting patient information, cloud computing technology is helping healthcare run better than ever. It's quite cloudy in the healthcare sector, technologically speaking.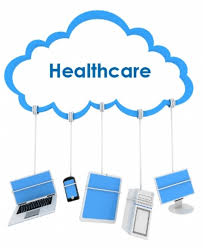 Cloud computing in healthcare is growing so fast that total global spending is estimated to reach $500 billion by the end of 2022, with a global market value at over $89 billion by 2027. In addition, IaaS, a cloud computing model popular for migrating healthcare infrastructures to the cloud, is currently the fastest growing cloud service with a projected CAGR of 32 percent by 2027.
So what does this mean in practice?
Cloud computing in healthcare increases the efficiency of the industry, while decreasing costs. Cloud computing makes medical record-sharing easier and safer, automates backend operations and even facilitates the creation, and maintenance of, telehealth apps.
At Chicago's Rush University Medical Center, technology is as ubiquitous as the doctors, nurses and patients who fill the corridors. Amid the army of life-saving machines is an invisible force vital to the hospital's operations: cloud computing.
It's used to run critical applications, cull, analyze and extract important information from piles of unstructured data, including physician and lab notes via the natural language processing capabilities of machine learning. Radiologist readings are cloud-analyzed too.
For example, a patient might come in complaining of a cough, chest pains and a headache. The doctor would then use their knowledge to diagnose what's wrong and record all the pertinent details. Even so, only the primary diagnosis — maybe a secondary or tertiary one — would show up on the patient's chart. That's where cloud-based data analysis comes in handy, extracting information that would otherwise remain hidden.
Cloud Computing in Healthcare Benefits
While cloud skeptics remain, many citing privacy concerns in light of the ultra-sensitive information they're reluctant to share with an outside vendor, the cloud's many advantages and potential advantages are hard to ignore — hence the escalating adoption rate.
As in lots of other industries, the days of internal IT staff at hospitals and other healthcare institutions are waning as operations migrate to cloud-based software and servers. Proponents of the shift say that means several things, including lower costs and the ability to speed up analysis of important care components, such as clinical notes — all of which, ideally, lead to better care.
Besides the fact that data is processed much more quickly and payroll shrinks considerably in the absence of large in-house IT crews, there are no on-site servers to wipe out or seriously compromise in the case of natural disasters or malicious cyber attacks. Automated scalability is key too.
"If you've got an application that's growing exponentially like EHRs (Electronic Health Records) tend to do, if you want to increase the scale and increase your capacity… it's a lot easier to do in a cloud-based environment," Bob Krohn, partner and healthcare practice lead at global research and advisory firm ISG, told Healthcare Dive.
Perhaps best of all, doctors, nurses and other healthcare providers have easy access to detailed patient data from different sources, which eliminates the need for massive networks and complex security protocols. Consequently, patients more quickly and accurately get the information, medications and therapies they need. That's the goal, anyway.
According to information gathered by the healthcare arm of Tokyo-based Renesas Electronics Corporation, the marriage of cloud computing and healthcare has huge potential to improve a host of healthcare-related functions such as telehealth and virtual care, medication adherence, drug anti-theft and counterfeiting measures, resource inefficiency, personal data privacy and the uniformity of medical records. It's no wonder, then, that more cloud companies are vying for a piece of the healthcare pie.
Category: Uncategorized