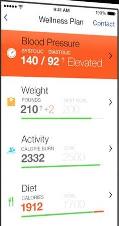 Dan Diamond, Managing Editor
After months of anticipation, Apple on Monday unveiled its new Health app, its cloud-based information platform known as "HealthKit," and a slew of new partnerships with Epic Systems, Mayo Clinic, and a number of other hospitals.
The open question: Will Apple's big play for the health care market end up changing the industry—and if so, how soon?
More on Apple's strategy Apple thinks it has 'moral obligation' to move into mobile health How Steve Jobs influenced health care
The much-anticipated announcement came during Apple's Worldwide Developers Conference, with Apple touting how its new iOS 8 operating system will allow developers to generate new health and fitness apps.
Here are three key takeaways.
That Apple is rolling out two separate platforms: Health and HealthKit
When screenshots of Apple's new venture were first leaked, it was thought that there would be a single app, which at the time was code-named "Healthbook." (You can read up on the background for Healthbook here.)
Instead, Apple split their offering into two separate platforms. "Health" is the user-facing application, designed to be the catch-all that gives users a sense for basic metrics and key wellness measures. I've pasted a screenshot of that new app below.
Meanwhile, Apple's new HealthKit is the platform that integrates data from across different providers and is open to developers. "With your permission, each app can use specific information from other apps to provide a more comprehensive way to manage your health and fitness," according to an Apple release.
"For example, your blood pressure app could share its data with a physician app, such as the Mayo Clinic app, so your doctor can provide high-quality guidance and care."
Apple's partnership with Epic
It's still unclear exactly how the alliance between the nation's leading provider of smartphones and the health industry's dominant seller of electronic records is structured, or what it's intended to produce for doctors and hospitals.
However, the announcement that the two companies have teamed up suggests that Apple and Epic have developed "a framework for getting information collected via HealthKit into patients' MyChart app," Jonah Comstock writes at mobihealthnews. That could potentially strengthen Epic's position and make their charts even more useful to doctors and hospitals, as Apple's widely used iPhones might drive more comprehensive data collection.
Other observers were less charitable—especially given the simmering issues in the industry over interoperability. "Two closed systems sync up," Matthew Holt, a co-founder of The Health Care Blog, groused on Twitter. (Unlike some of its competitors' products, Apple's iOS is famously a "closed garden" and not readily interoperable—even with other Apple products.)
Category: Healthcare Technology Trends