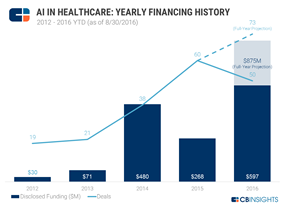 2016 is poised to be an important year for AI companies focused specifically on healthcare. Deals to startups using machine learning to solve healthcare-related problems increased by nearly 60% in 2015, and are projected to reach another record annual high this year — with 50 deals already recorded as of 08/30/16.
Still, while 2015 saw the highest deal count thus far, funding was higher in 2014, primarily due to just 3 companies that received over 60% of the fund total. These deals included a $130M Series B round raised by Flatiron Health, a startup which uses a combination of machine learning and human analysts to sort and categorize health data; a $100M Series C round raised by imaging and diagnostics startup Butterfly Network; and a $64M round raised by healthcare research startup Stratified Medical.
Deals and dollars peaked in Q1'16 compared to previous quarters. The funding high was helped along by Pathway Genomics, which was backed by IBM Watson Group in a $40M Series E round, and Flatiron Health, this time with a $17M Series C round backed by investors including Casdin Capital, Roche Venture Fund, Baillie Gifford & Co., and Allen & Company.
Q2'16 saw the emergence of a new unicorn in the space, China-based iCarbonX. It raised a $154M Series A round from Tencent and Vcanbio, putting its valuation at $1B. Though still in its early stages of fundraising, iCarbonX has already acquired AI company Imagu Vision Technologies, based in Israel.
Most active investors
Khosla Ventures is the most active VC investor in healthcare AI, having backed 5 unique companies since 2012—Atomwise, Lumiata, Zebra Medical Vision, Bay Labs, and Ginger.io — as discussed in our AI in healthcare market map.
Among companies backed by at least one of the top investors below, Predilytics (backed by Google Ventures and Flare Capital Partners) is the only company to have exited so far. It was acquired in 2015 by Colorado-based late-stage healthcare startup Welltok.
Category: Uncategorized