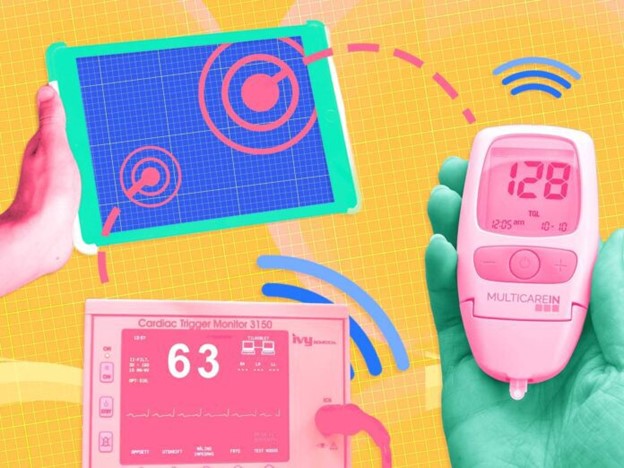 By Mary Kelly Jagim – The pandemic has taken a significant toll on healthcare professionals due to the increase in critical patients, decrease in staff, reduced supplies, and greater safety risks. For many teams, the increased patient workloads and short-staffed shifts have created longer hours with no end in sight. As leadership at healthcare systems look for new ways to retain and hire staff, they must reconsider current tactics and provide their teams with the necessary support. IoT technology such as Real-Time Location Systems (RTLS) provides advanced solutions to better assist resource-constrained and exhausted staff.
The American Association of Critical-Care Nurses surveyed more than 6,000 critical care nurses and found that 66 percent feel their experiences during the pandemic have caused them to consider leaving nursing. Meanwhile, one in five healthcare workers has already left medicine altogether.
An RTLS active-RFID technology platform and connected software applications use IoT-enabled tags, badges, and sensors to display the current and historical locations of medical equipment, staff, and patients. Utilizing this system reduces the time it takes staff to locate and obtain critical assets, automates manual processes, and provides hospital leadership with operational analytics offering insights into workflow bottlenecks and safety concerns. RTLS capabilities such as asset management, clinical and operational workflow, and duress response alleviate staff burdens and allow healthcare professionals to return their focus to what matters most – patient care.
Real-Time Location Services: An Investment in Healthcare Staff
Leadership knows that healthcare professionals are critical to successful patient outcomes, safety, and overall satisfaction. This is especially true for hospitals experiencing significant levels of turnover. Retaining qualified and experienced nurses is a high priority, even more so when considering how departing staff can negatively impact patient care and the high costs of recruiting and training.
According to the 2021 NSI National Healthcare Retention & RN Staffing Report, the average cost of turnover for a bedside RN is $40,038, resulting in the average hospital losing between $3.6 and $6.5 million per year. The report notes that since 2016, the average hospital has experienced turnover from about 83 percent of its RN staff, impacting patient care and margins.
Messages of gratitude and small tokens of appreciation can only go so far when encouraging exhausted staff to remain at their jobs, especially while continuing to work under challenging circumstances. Due to the past two years putting a heavy burden on healthcare staff mentally, emotionally, and physically, healthcare organizations must focus on creating a more effective and supportive work environment. Emerging technology such as RTLS can help make healthcare jobs more satisfying, safe, and efficient. Let's take a look at four positive effects of real-time location technology in healthcare.
#1: Asset Management
One-third of nurses report spending an hour or more during an average shift hunting for equipment. That time totals 6,000 hours per month wasted instead of providing patient care. By implementing RTLS in healthcare, nursing and other medical staff can locate critical equipment using IoT-enabled tags within minutes – saving precious time, reducing stress, and ensuring patients receive timely care.
RTLS provides real-time room and bay-level map views, lists locations of medical equipment report equipment usage, and provides alerts for equipment maintenance and cleaning. By automating Periodic Automatic Replenishment (PAR)-level inventory management, facilities can ensure medical devices are always readily available. Certain RTLS software solutions offer a convenient mobile app to further reduce frustrations and provide caregivers visibility into the status of their equipment or service requests and offer robust reporting tools. Administrators can use the system's backend to monitor PAR levels and identify inefficient workflows or inventory utilization. This feature is crucial in reducing stressors as healthcare facilities experience supply chain challenges.
#2: Automated Nurse Call
To implement an automated nurse call system, a facility can easily integrate an RTLS with an existing nurse call system, creating a relatively simple solution that strengthens communication among team members and provides outsized benefits.
When a caregiver enters the patient's room, their RTLS-enabled badge automatically sends a signal that cancels the call and accurately documents the time of their arrival and total care time. This solution allows caregivers to immediately focus on a patient's needs, which saves time and creates a better experience. Additionally, reliable and unbiased data helps to support staff and mitigate potential liability issues or accusations regarding the quality of patient care. Data-driven insights provided by the system also help to improve facility processes and procedures, such as staffing strategies and resource allocation during peak hours.
#3: Clinical Workflows
In addition to implementing an automated nurse call system, healthcare facilities can leverage RTLS to decrease bottlenecks in clinical workflow and enhance the overall coordination of patient care. Using the system's robust reporting engine, healthcare professionals can keep tabs on key patient flow metrics such as patient volume, length of stay, room utilization, patient wait times, and time with a care provider. When caregivers don't need to ask where their patients stand in the care process or wait for status updates to be manually entered into the system, they can more effectively manage their daily workflow, reduce wait times, and devote more of their time and effort to quality patient care.
Staff can identify anomalies or bottlenecks with a holistic view of patient and staff interactions, movement patterns throughout the facility, as well as daily to hourly averages of individual patient milestones. Facility leadership can use this information to start tackling areas for improvement and measure the impact of process changes. Following the installation of RTLS, healthcare facilities have seen a decrease in non-value added time during patient visits, resulting in improved patient and staff satisfaction.
#4: Staff Duress Alerting System and Safety Measures
Violence in healthcare settings has escalated during the pandemic. Since the start of COVID-19, violence against healthcare professionals has surged, and some hospitals have experienced more than a 50 percent increase in dangerous incidents. An IoT-enabled RTLS safety solution provides a reliable and real-time duress alerting system that prevents threats from escalating into violent situations by giving healthcare professionals the ability to discreetly send panic alerts to the security team from an easy access button on their wearable badge.
Once pressed, the badge immediately communicates the location of the staff member to a computer workstation, in-unit display monitor, security dispatcher as well as by email, SMS alert, or VoIP phone message. The solution also integrates with traditional security systems, video management systems, access control and mass notification systems, and various third-party applications.
Providing peace of mind and error-free emergency response, the alert immediately and accurately communicates the exact location of the staff member, ensuring the closest security personnel responds in a timely manner. Increasing emergency response times prevents staff injury, and not only creates a safe environment for staff and improves their satisfaction but also reduces the number of lost workdays which would put further strain on other staff members.
Selecting the Best RTLS for Your Healthcare Team
When selecting an RTLS, finding a strategic partner with a comprehensive suite of solutions makes it easier to expand the system over time to other aspects of facility operations. For many healthcare facilities, after seeing the insight provided by RTLS and experiencing a meaningful return on the initial investment, healthcare teams and leadership are encouraged to develop their RTLS further. An early investment in the right strategic partner allows leadership to improve the existing system infrastructure to better support healthcare professionals and patients.
Over the past two years, the demand for healthcare has increased exponentially, and there is no sign of it slowing down. Powered by IoT-enabled devices, an RTLS is a crucial resource for the health, safety, and efficiency of healthcare professionals. Health systems need automated workflow solutions to help staff work smarter, not harder. This approach improves patient outcomes and safety while simultaneously reducing the operational cost of care delivery in a scalable, repeatable manner. Healthcare workers are truly essential, and they deserve the best support healthcare organizations can provide.
Category: Uncategorized